FOR IMMEDIATE RELEASE
DALLAS INDUSTRIES APPOINTS NEW REGIONAL SALES MANAGER
Troy, MI — Dallas Industries, a leading manufacturer of coil handling, press feeding equipment and controls for the stamping industry has announced the appointment of John Heuring as Regional Sales Manager.
Heuring will join the sales team in promoting Dallas' equipment to both end-users and OEMs, as well as developing future marketing plans for the company.
Willie Chacko, Dallas Chief Executive Officer notes, "John brings a wealth of knowledge and experience to Dallas. He's going to be a valuable addition to our team, especially in terms of his application knowledge, customer relationships and product development.
Added Heuring, "Dallas has had a long history of providing excellent equipment and great value in the market. I'm looking forward to helping even more customers realize that value."
Heuring brings 20 years experience in the machine tool industry, with expertise in press feeding and coil handling equipment. Most recently Heuring was Regional Sales Manager for Coe Press Equipment. Prior to that position he was Sales Manager for Feed Lease Corporation.
Dallas Industries'full line of products includes servo feeds in a wide range of sizes and capacities as well as heavy-duty straightening and coil handling equipment.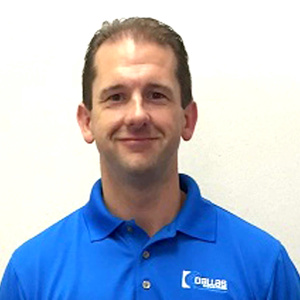 John Heuring, new Dallas Industries Regional Sales Manager